My Approach
I am trained, and teach, in the Viniyoga style.
Emphasis on the breath – linking breath to movement; using the breath to support and enhance movement, to energize, to de-stress, to refresh.
Repetition of two or three poses, setting up a gentle rhythm, which warms up the muscles and joints and makes it safer to subsequently hold poses for several breaths
Adaptations of poses for each individual practitioner – getting the pose into the person, not the person into the pose!
My Story
In 1991, I was living in Manhattan (NYC) and jogged around the Central Park reservoir for exercise. When I became pregnant that fall, I had to stop jogging but still wanted to do something to keep fit. A friend suggested I try yoga, so I found a studio nearby that offered classes for people with physical limitations. I was hooked immediately. The stretches felt wonderful, and I always left class feeling calm and relaxed.
After practicing yoga for a number of years, I decided I wanted to make yoga a more integral part of my life. I began investigating various schools of yoga, finally settling on Gary and Mirka Kraftsow's American Viniyoga Institute (AVI), from which I graduated with a 500-hour certification in June 2006. In June, 2008, I completed a 9-month course in anatomy for yoga in Leslie Kaminoff's Advanced Studies program at the Breathing Project in Manhattan. In April, 2013, I completed an additional 500-hour certification in Yoga Therapy with AVI and now offer private yoga therapy sessions and special classes for specific conditions in addition to my regular classes.
I am registered as E-RYT500 (experienced 500-hour yoga teacher) with the Yoga Alliance and am certified as a yoga therapist by the International Association of Yoga Therapists. From 2011 – 2017, I taught classes at Aetna Insurance Company in Hartford, CT as part of a yoga for stress reduction program designed by Gary. The program was taught at Aetna facilities nationwide and I also served as the program administrator. In addition to my local teaching schedule and private yoga therapy practice, I continue to assist Gary at some of his conference and workshop appearances and teacher trainings.
I am a certified program leader for the Arthritis Foundation's Exercise Program, and am also certified in CPR/AED/First Aid. I also completed a training at Three and a Half Acres Yoga (THAY) in Yoga for Trauma in 2019 and continue to teach at various venues on behalf of THAY. In addition to those classes, and several community classes, I teach chair yoga for seniors 4 times a week for Health Advocates for Older People, an New York City non-profit agency.
I am also a member of the Society for Integrative Oncology and I teach yoga classes as a volunteer for cancer patients and caregivers at Northern Westchester Hospital in Mount Kisco.
In February of 2023, I became certified in Dr. Loren Fishman's yoga methods for osteoporosis and scoliosis. At that time, I also started working with Dr. Fishman as a yoga therapist in his Manhattan Physical Medicine and Rehabilitation office, offering yoga therapy when appropriate to his patients.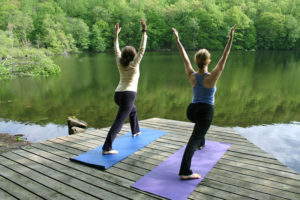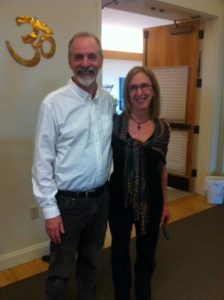 Stephanie with Gary Kraftsow, Director of the American Viniyoga Institute, at Stephanie's graduation from Yoga Therapy Training, April 18, 2013
Next Steps…
View Shop
For your convenience you can buy individual sessions, 10-class cards, and cds of specialized practices right here on my site.
View Resources Page
For more information, I have compiled a webpage full of yoga resource links that I recommend.